If your budget allows, you can make your payment in full and start your studies knowing the cost of your course is complete.
You can do this is a variety of ways such as: Pay Pal, Visa Debit, Bank Transfers, MasterCard or American Express to name a few!

We offer interest free credit via our finance provider. This allows you to pay your course fee in manageable monthly payments.
To make it even easier to complete, this option is paper free and completed entirely online. Our Course Specialists are also here to guide you through the process if needed.
3. Monthly instalments
Our monthly instalments make it easy and simple for you to pay for your course, in small monthly chunks.
There's no need to worry about your payments or even think about them, as you can create a standing order to ensure your monthly payments are made on time.

Business Funded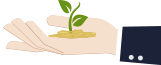 If your employer decides to sponsor your course, it's great news for the both of you! Not only will they receive a more highly trained and experienced employee at the end of your course and a fantastic return on investment but they'll also receive regular updates on your progress.
Everyone's a winner!
Looking for more?
Do you need more information about our payment options?  Our Course Specialists are happy to help.
LEAVE AN ENQUIRY
If you would like further information on any of our courses – get in touch! Our skilled specialists are available to answer your queries on:
Freephone: 0800 012 6770
Email: info@dlctraining.co.uk