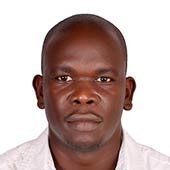 Tonny Opeto
CMI Level 7 Extended Diploma
Tonny Opeto has just completed his CMI Level 7 Qualification with DLC Training; the latest in a long line of professional courses Tonny has studied throughout his career, each one further supporting his career development aims.
Now he has completed his studies, Tonny sat down to talk to us about his career, his progression routes, and of course, about himself.
I consider myself a diligent and loyal manager; motivating and inspiring others to focus and achieve mutual targets and objectives: a pragmatic processes evaluator and all-round communicator. I have vast experience of Six Sigma and Changes Management processes; budgeting; finance; and merchandising; consistently exceeds business and organisation KPI's.
"Highly recommended, regarded and respected by all, for his succinct and faultless judgment. Has a good understanding of Equality and Diversity, having worked with a range of multi-cultural individuals. A team player and a visionary, using creativity to drive innovation which results in continuous improvement of service standards. Tonny is a self-starter, consistently motivate and mentor others to 'do the best they can'' to archive organisational goals. Tonny believes in share knowledge and self-development and is flexible and highly adaptable. Takes Health and Safety seriously and promotes excellent team-building and training skills; have high ethics and an approachable style and upgrades skills to offer the best service possible" – Recent feedback from a senior colleague.
I have worked for International humanitarian organisation for over 13 years now, started with MEF Holland when I was 18 as Log WATSAN in Uganda move to expert with Medicines Du mode as logistics coordinator in Liberia, with concern worldwide as Ebola Logistics coordinator in Sierra Leonne, Logistics coordinator in DRC Congo with Concern as well and With Dan Church Aid as Procurement and Logistics Manager in South Sudan, Operations Manager and Procurement and Logistics Manager with IMC South Sudan as well. I am fluent in English, Arabic and speak French as well.
Can you explain your current job role Tonny? 
Current position: Head of Logistics
Organisation: Welt Hunger Hilfe German INGO
Responsibilities: Head the logistics and procurement department as member of senior management team (SMT) who looks at the strategic management of Welt hunger Hilfe programmatic in the area of support, manage procurement and logistics planning, support program implementation and budgeting for the organisation, management of transport/fleet, warehousing and planning, distribution of commodities.
It sounds like you have quite a lot of responsibilities Tonny, can you explain how your career has progressed to this level?
I am very committed to my ongoing development, I now have five diploma's, three bachelor's Degrees, Three masters Degrees and one PhD in Leadership development and management with a level 6 managing the supply chain from IoSCM, Certification in humanitarian supply chain management (CHSCM), I have now just completed my CMI Level 7 and I am a Certified expert in supply chain management (CExSCM) awarded by IoSCM. Am planning to change from Supply chain management to full leadership and have planned to top up my CMI with full MBA and continue with another course within DLC which I am discussing with the team.
Which Course you studied and why?
I did the Chartered Management Institute (CMI) Level 7 Strategic Management and Leadership Extended Diploma; I did the program to align myself to my career progression to leadership and management.
How have you been able to use your learning within your workplace?
This program has been supporting me in making decisions and managing my staff, strategically planning, organising the organisational activities; this has positioned me much better in managing my departmental operational activities.
Would recommend studying the course to another professional looking to develop themselves?
100% Yes, I will always recommend the CMI qualifications and DLC Training to all my colleagues.
How you found your learning experience overall? 
Very good and worth having it.
Any other comments you would like to include?
I would like to appreciate and thank my tutor Helen and learning support Glenda for all their support which they have given to me since the first day. Thank you.
I would also like to thank DLC for supporting me and providing me with the opportunity to study this program.
LEAVE AN ENQUIRY
If you would like further information on any of our courses – get in touch! Our skilled specialists are available to answer your queries on:
Freephone: 0800 012 6770
Email: info@dlctraining.co.uk