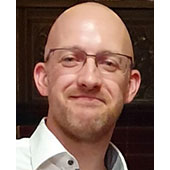 Kevin McEmerson
IoSCM Diploma (Level 5 & 6)
Hi Kevin, Can you please tell us a little bit about yourself?  
I am 33 years old and I live with my wife Claire and 5 year old daughter Millie in a town called Clydebank, just outside Glasgow. I am a 10 year veteran of the British army and have served on operational tours of Northern Ireland and Afghanistan. I joined the army in 2004 as a driver with my first posting to a logistic support regiment in Germany before moving to work with bomb disposal in Wiltshire and finally as a transport section commander within a commando unit in Scotland. Since leaving the forces in 2014 I have worked in several positions within the transport and logistics sector  for companies such as Eddie Stobart and Farmfoods.
Explain your job role and tell us a little bit about what you do, please?
I am currently employed by McPherson Ltd as a Transport Coordinator on the prestigious Chivas Brothers contract as a third-party logistics provider, based within Chivas Dumbarton manufacturing and operations site. Responsible for the transport aspects of the logistics function for the Dumbarton site, I am jointly responsible for coordinating the maintenance and movement of laden and unladen double deck trailers and moving floors between 4 warehouse sites and 2 bottling plants in central Scotland as well as the loading of spirit tanks in London (Beefeater Gin), Plymouth (Plymouth Gin) and at malt whisky distilleries in northern and central Scotland. Loads can vary from 200 litre casks of new make spirit going to warehouse for maturation, to transporting high value mature whisky to bottling plants. As well as maintaining high levels of service delivery and customer service, I am also responsible for ensuring that drivers are completely compliant with HM Customs, ADR, Road Transport, and Working Time Regulations.
Can you explain your career progression so far?
I have been involved in different transport roles in the last 15 years, in many different countries in the world, which I have loved, but I would like to work in a role that encompasses the whole supply chain. I enjoy being involved in the progression of goods from start to finish, just like the journey of whisky from distillery to bottle. I have completed the level 5 and level 6 diplomas with IoSCM to not only give me better commercial knowledge but to better my career prospects. Since completing the level 6 I have accepted an offer to study a master's degree in Business Management (Logistics and Supply Chains) at Edinburgh Napier University part time as the final part of my commercial education before putting all this learning into practice.
Which Course have you studied and why?
I have studied level 5 and level 6 diplomas in Supply Chain and Operations Management as this is the career route that I want to take. Not only did the courses give me a good insight into supply chains, but I could also tailor the course content to suit my learning requirements.
Have been able to use your learning within your workplace?
Yes, I have. It is amazing how many aspects of the supply chain process that I am directly and indirectly involved in without previously realising it. Although my role is within transport, I must consider the impact we have on each of the different functions and the repercussions should we not deliver on time. If we do not deliver a trailer full of mature whisky casks on time for it to be emptied, it has a knock on effect as the teams waiting to empty the casks are delayed, then the teams in the bottling hall are delayed or worse if the whisky is for exporting, it could mean that the export tank misses its booking slot onboard a ship. This can be very time consuming and inconvenient as the dangerous goods paperwork is only valid for the delivery part of its journey.
Would you recommend your course to another professional looking to develop themselves?
100%, especially for someone that is either leaving the armed forces or someone who is looking to progress in their career. When I left the army, I did not have any commercial knowledge, so I found it difficult to gain the experience that I needed. Completing these courses helped me understand my job better, especially the terminology, so it was worth the time and the effort. 
Kevin, can you explain how you found your learning experience overall?
I found some aspects of both courses easy as I was just putting into words my own role or previous experiences but there was also other aspects that I found tricky as I'd never covered it before. This just made me more determined to research and learn the parts that I didn't know or understand to better my knowledge.
Are there any other comments you would like to include?
Take the leap. I did not think that I would be able to complete some of the work as I did not have very much commercial knowledge but the content within these courses has given me that knowledge. It is hard work, but it is rewarding when you get the certificate through the door.
Thank you for your time, Kevin.
LEAVE AN ENQUIRY
If you would like further information on any of our courses – get in touch! Our skilled specialists are available to answer your queries on:
Freephone: 0800 012 6770
Email: info@dlctraining.co.uk