Dacoll Case Study
Dacoll's Logistics Team Leader, Colin, enrolled the entire warehousing team onto a workforce development programme with DLC Training.
Already they've seen a significant improvement in performance and productivity. Here's what Colin had to say about enrolling his workforce onto a professional development plan:
"Since their first course, my team is much more aware of the need to have direction and purpose in our warehouse.

They have a better understanding of when, how and why we do certain tasks within the department. Leading a young team, it has made a massive difference to how they're managing their responsibilities and are much more professional in their performance."
We also heard from the team themselves and how they feel our warehousing and inventory courses have been of benefit to them so far:
"I've learnt many new skills regarding warehousing and inventory thanks to the course. I've also enhanced my overall knowledge of our department.

I found the work involved straight forward and the platform easy to use."
"I feel the course has been really beneficial, I've learnt much more about the inventory systems that are in place and the different systems available and how they can be suited for certain types of warehouse environments.

I've also gained more knowledge about the financial effects on holding too much or too little stock when it comes to meet customers' demands."
"The training course has given me an extensive knowledge of the warehousing industry. Completing these courses has given me the opportunity to perform my role to a higher standard due to having more of an understanding of tasks.

The courses are very well constructed and the assessments are perfect for testing your knowledge. I am enjoying learning and passing the courses."
"The warehousing course has proven to be very beneficial. I have learnt about elements I didn't really know about or understand, especially the real 'ins and outs' of warehousing. I've studied a variety of topics that can be used throughout my warehousing career, with thanks to the training courses. I know I'll continue to learn more and believe I am becoming a valuable asset to the company."
Dacoll Ltd have recently been crowned the winner of SME Employer of the Year 2017. It's clear that the business values their employees. And investing in employee development is just one of the ways the business demonstrate their commitment.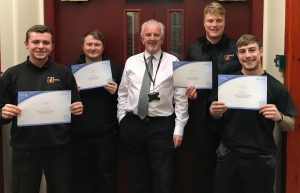 Here's Logistics Director, Clark Simpson awarding our latest successes with their Warehousing Certificates. A huge congratulations to Aaron Copland, Kevin Ritichie, Lewis Russell and Cameron Walker! (Left to Right)
The Dacoll team have just enrolled a further three students too! To find out how your business can benefit from our courses and qualifications, call us on 0800 433 4541.
LEAVE AN ENQUIRY
If you would like further information on any of our courses – get in touch! Our skilled specialists are available to answer your queries on:
Freephone: 0800 012 6770