The thought of changing careers can be scary whether you're well-established in a sector or have started something and it's not for you. Deciding to change careers can come with a lot of self-doubt and uncertainty, with the feeling you don't fully know until you leap.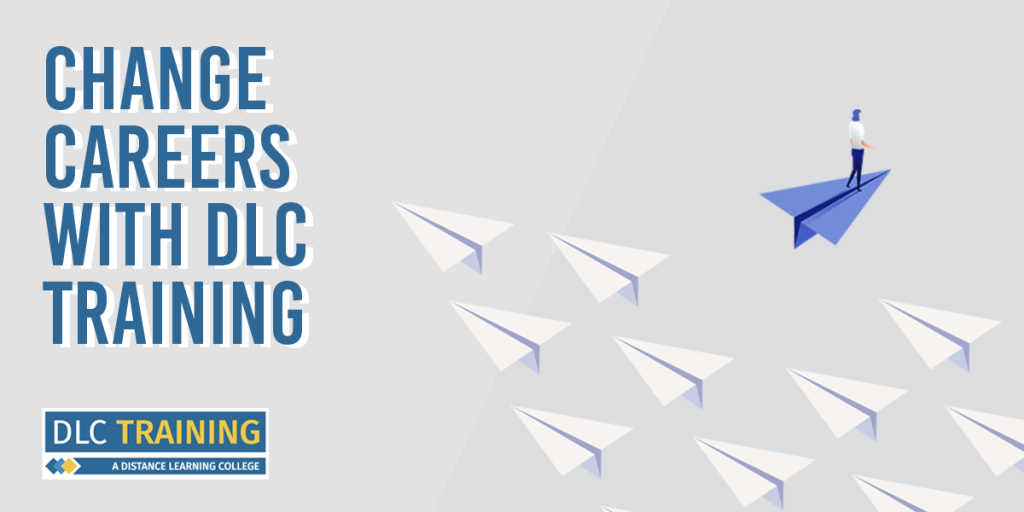 A lot of our learners at DLC Training sign up to our courses not only to enhance current careers but to create foundations for a new one, too.
What is a Career Change?
A career change is deciding that you're ready to apply for an occupation that isn't in your current sector. It's not just the case of changing jobs, or moving positions, it's pursuing jobs in a whole new industry and possibly even starting from scratch – ready to work your way back up in a new sector or with new responsibilities.
Motivations for Career Changes
There are many reasons people opt to change careers at various points in their life. Some of the most popular reasons include:
Wanting a new challenge: they may have made their way to the

top of one ladder

and they're ready to pursue another
More flexibility: perhaps they have become a parent, have their own side hustle or are just ready for a better balanced lifestyle
More scope for promotion: they may be moving on to pastures new that have more opportunities to move upwards and to earn a higher salary
Job satisfaction: they may not be getting a lot of happiness from their current sector and are ready to switch it up
Assessing Your Strengths and Weaknesses
The first step to picking a career that suits your working style is to analyse your own strengths and weaknesses.
Then, make a choice whether you want to pursue something that your strengths support or if you want to try something that can fill in your knowledge gaps for a bigger challenge.
Discover your Strengths
Take a look through your previous appraisal feedback from managers and peers. What strengths did they suggest you have? Are you a team player, a great leader or a fantastic communicator? Perhaps, you're all of the above!
Consider what you, personally, think your work successes have been. While it may not be your KPIs, perhaps you excelled in public speaking a the latest work conference, perhaps you're a really great manager. Don't just follow the numbers, think about what successes gave you the most satisfaction, too.
Understand Your Weaknesses
This activity isn't to make you feel bad about yourself, in fact the opposite. You need to think about the things you don't enjoy about your current career, consider the things that feel like a difficult task to you and think about the aspects of your job you avoid like the plague. Unless you're a glutton for a real real challenge, perhaps avoid careers that rely on these. For example, if data analysis is something you can't do or don't enjoy at all – working with numbers every day like a data controller may be one to avoid!
Preparing for a Career Change
The best thing you can do to prepare for a career change is to research. Don't make the jump without all the information you need to do it successfully.
Research the industry you're considering and break this down into roles. Then take a look at the relevant job listings across a range of businesses within the industry and look at job descriptions and personal specifications. Understand if there are any gaps you need to fill before you make your move.
Research the salary bands and what impact the change may have on you financially. This will help you to realise how soon you can change career with minimal impact.
Taking The Leap
Once you have all your research, you've filled your gaps and you're prepared then it's just time really to take the leap. This can be the scariest part of all but if you've looked into it enough, there's a good chance you've found a job you're going to love that ticks all the boxes your previous career didn't.
If you're looking for a new challenge but not sure you want to change careers, courses with DLC Training are the ideal way to enhance your position and learn more. Discover more today.