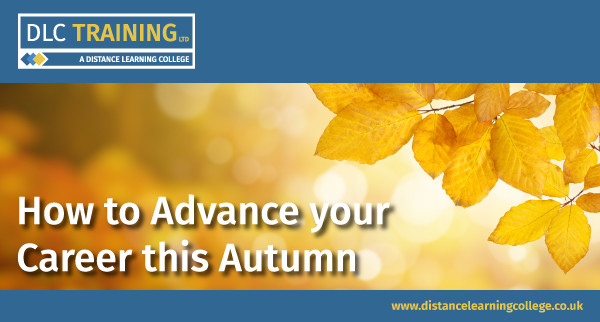 Here at DLC Training, we are very proud of the fact that each member of our team are experts in supporting our students and clients with their Professional development and team development aims. Our course advisory team are always on hand to provide guidance, for each and every individual they speak to, on choosing which of our courses will be the best choice for them, in terms of flexibility, study methods and achieving the right qualification for them to advance their career.
Jacky Stansfield Smith, Head of Client Relationships, has been a valued member of the team for many years now. Jacky works tirelessly to provide support and guidance to thousands of students and businesses. Ensuring they get the best value return on their investment in to Professional development for themselves and/ or their teams.
Jacky has put together her top tips on how to Advance your Career this Autumn, AND if that wasn't enough, she has created a free Future plan to help you.
This season give yourself time to take stock, set your goals and look ahead to get where you want to be.
1.     September and October are key months for recruitment. It's the resurgence of organisations getting back to full strength after summer holidays when activity may be quieter. Be prepared by updating your CV and brushing up on your interview skills.
2.     Appraisals and Personal Development Plans often take place in Autumn, a fantastic opportunity for you to discuss your career aspirations and review your progress from the previous year. It's important to be prepared, know what you want to get out of the process and set your goals for the year ahead (along with the steps to get you there).
3.     Autumn is a great time of year to make decisions and assess your values. Why? We are relaxed, refreshed and have a healthy perspective on life. Our vision of the future is clear and achievable – so go for it!
4.     As things settle into the season, does your career seem stagnant?. Whatever your options are, don't let time pass you by. Whether it's promotion, taking on more responsibility, mentoring others, undergoing training or changing your job it is vital to your well being and outlook to move yourself forward.
Got five minutes? Why not click below to download your free Future Plan. Right now is the perfect time to assess your strengths and work out what will enable you to put those steps in place to achieve your goals for the year ahead.