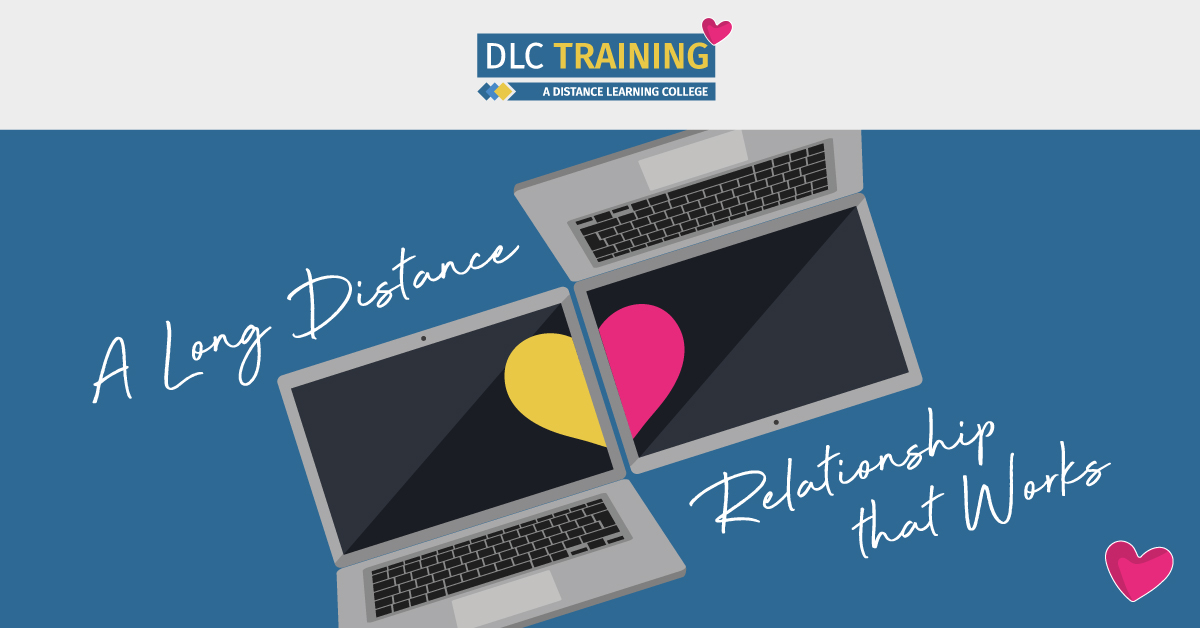 A Long Distance Relationship that Works
This year Valentines Day probably looks very different for most of us, so we wanted to take the opportunity to talk about the kind of long-distance relationship that always works!
At DLC Training, we're experts on making long-distance relationships, or "study-ships" work, and we like to think that we've found "the key" to a successful studying partnership with our students from far and wide.
Here are our 5 top tips on how to overcome some of the hardships you might be expecting when it comes to a long distance "study-ship".
1.Technology is your Best Friend
You can be worry free knowing you have a whole support system at the other end of the line, whether it's a quick reassuring direct message, or one of those hour long phone calls that leaves you feeling all warm and happy inside. Our Student Support team and your dedicated Tutor are on hand to provide you with the guidance you need to successfully complete your studies.
2. Do things together even though you're apart
With webinars, forums and networking available via the DLC Learning Hub, you can connect with your peers, Tutors and the Student Support team in real time. In our opinion, it's better than being in a classroom; you can take part in all the group activities, without having to move from the comfort of your couch!
3. Stick to a Schedule
We know the days seem to be rolling into one at the moment, and things feel a little "groundhog day", however it's proven that commitment to a schedule = success. To keep our long-distance "study-ship" going strong, we need to hear from you, and see you logging in to the Learning Hub, on a frequent basis. We appreciate that you need flexibility, and our courses are designed to accommodate that – whether you login in once day, or once a week, let us know your plans and we can make sure we're there for you.
4. Aim for the stars
Whether it's your next assignment submission, completing your current unit or you're pushing on through to have your studies completed by a specific deadline. Goals and aims are vital in our long-distance "study-ships", they keep you motivated and let us know your continuing to work towards the longer-term plan of being one of our highly-skilled, successful, completed students (Ready to progress to the next level and do it all again, of course)!
5. Have fun
If you're studying for the sheer love of learning, you'll be having fun without trying. But we appreciate that not everyone finds studying enjoyable, that's why we aim to make our learning programs as interactive, fresh and fun as possible. You'll always find interesting themed quizzes, competitions and trivia on the Learning Hub – if you interact, you'll soon find the fun in learning.