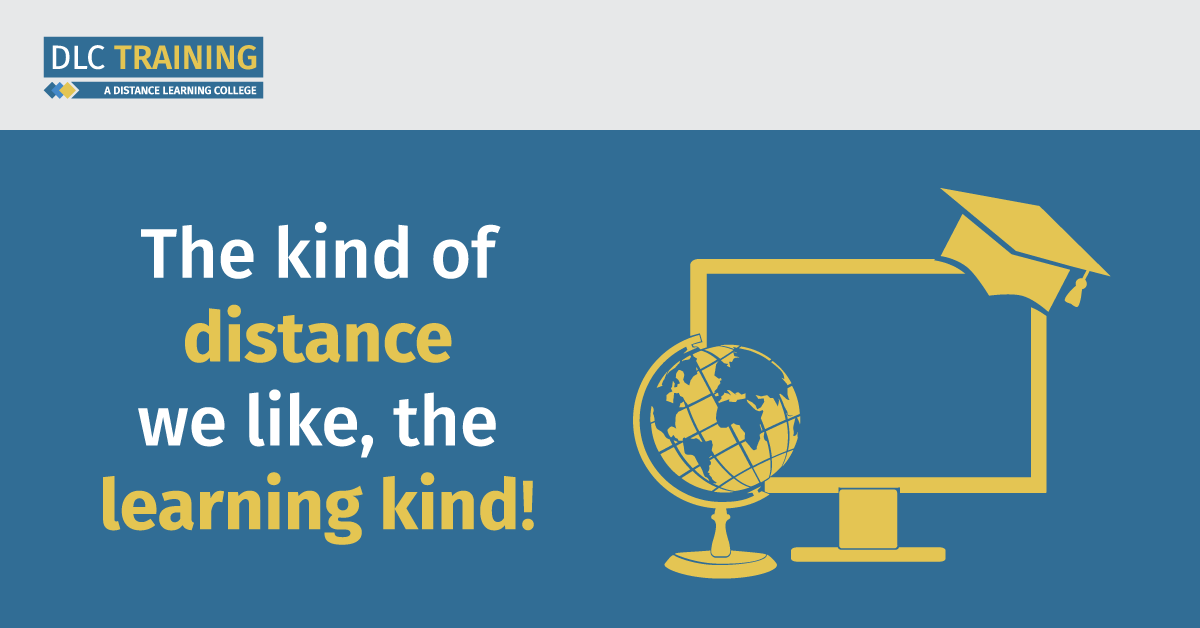 "Distance". It's a word we're well accustomed with here at DLC Training. However, the notion of Social Distance is something brand new to us, and following the implementation of social distancing and lock-down procedures from Governments around the world, it's something we're quickly having to become used to.
We understand that over the upcoming weeks (possibly months), many of you will find yourselves unable to, or unwilling to, leave your home for any substantial period of time. Here at DLC Training, we're all about providing you with the kind of distance that we like, the learning kind! We've put together some great benefits of online learning, and tips on how to make the most of your studying with DLC Training.
Technology. It's everywhere.
Okay, so we know that usually this isn't the BEST fact to point out. However, when it comes to e-learning, or distance learning courses, technology really is your best friend. You can be safe in the knowledge that you have your whole support system at the other end of the line. Through emails, texts and platform messages (oh-my), you'll be able to access unlimited support from our Course Advisors, Student Support team and Industry Expert Tutors.
Be connected, from the comfort of your own home.
With webinars, forums and networking available via the DLC Learning Hub, you can connect with your peers, Tutors and Student Support team in real time. We provide you with the platform for group gathering and mass interaction, without the need to see or interact with any one face-to-face.
The when and where's are up to you.
You can being your studies at any time with DLC training, and we can organise your enrolment and access to your study material within 24 hours of you making the decision to join us. You're not required to travel to enrol or access your learning material, which means you can quickly and easily begin to make the most of the time you have at home by embarking on a life changing qualification.
Your Study. Your Schedule.
You may be working from home, or find yourself with a little less "structure" to your day than usual, but we understand that by no means does that mean you will be less busy! Studying via distance learning allows you to schedule your studies at a time to suit you. Whether you're an early riser, or a night owl, or looking to trade your gym time for something else constructive. You can study when you want, and by dictating the pace of study you could be very surprised how much progress you make in a short period of time.
Be in control of what you study
In times of uncertainty, any aspect of control that you're able to grasp is a bonus. Unlike traditional classroom learning where often courses and learning programmes are designed to accommodate the needs of 30+ students, studying via distance learning gives you much more control in selecting the units you want to study. You can tailor the qualification, to suit your required knowledge development, and create the perfect course for your career progression.
Diversity (no not the dance group)
The typical profile of a distance learner…well, that's the thing, there is no typical profile of a distance learner. Our students vary in their professional experience, academic abilities and industry specialty. You're guaranteed to meet interesting peers when studying via distance learning, who can provide you with alternate insights into your working role or business, which may just be what you need to increase your personal and professional development.
Make 'distance' work for you, and find the best professional qualification for yourself and your development aims. Speak with one of our team today.