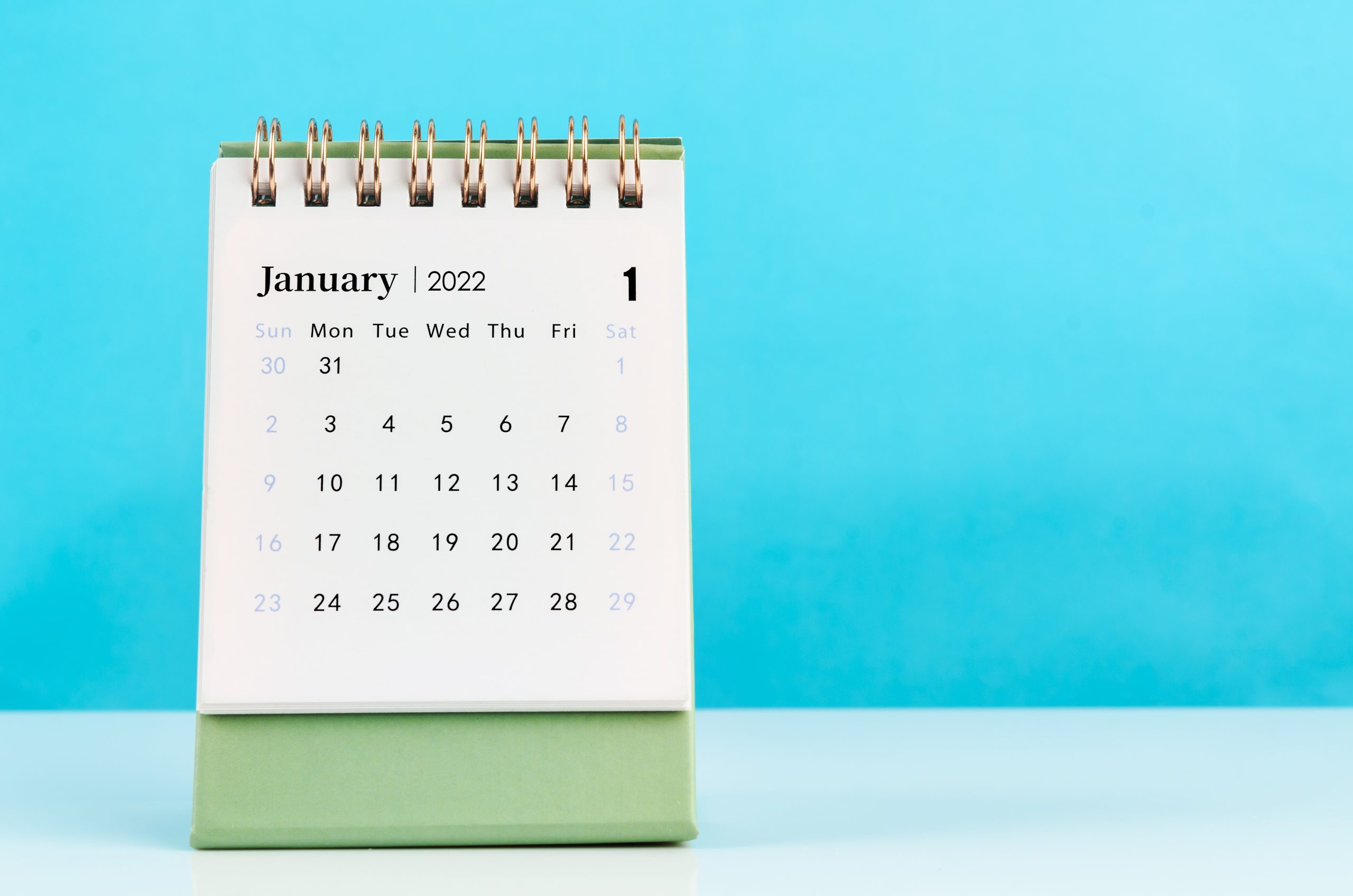 New Year, New Opportunities
It's that time of year again, the beginning. The time we get to reflect on our achievements of the previous year, our highs and lows, and consider what we want 2022 to bring.
What is your January resolution? Instead of giving up chocolate (which we all know won't last long!) why don't you take this opportunity to map out your career plan and understand what it is you would like to achieve this year professionally. Where do you want to be this time next year?  Do you want to have better knowledge and skills in your current role? Would you like to be on your way to a promotion? Or do you want a complete career change? Any aspirations you have, create a plan to ensure you can take the steps you need to reach your goals.
Steps to creating a SMART career plan
There are three main steps to creating a SMART career plan, you need to carry out all three to devise a plan which aligns with your aspirations, and that is achievable if you put the work in.
Step 1 – Reflection
Before any planning can take place, you need to take the time to really reflect on your career. How is your career path looking, are you exactly where you thought you would be by now, or are you far from where you had hoped to be? Do you enjoy what you do, or are you feeling the need for change?
It's also important to self-reflect, to understand your interests, passions, talents, and your values so you can work out if your occupational goals line up. This will allow you to establish whether your current career choices are putting you on the trajectory towards a fulfilling career, or whether a change may be more suitable for you.
Step 2 – Understanding how to set a SMART goal
After you have reflected, you will understand how you feel about your career progression to date and know whether your current trajectory is suitable, or if you're going to need a change. The next step is to look to the future, and really understand what you want from it so you can set yourself a goal. Do you hope to be more experienced in your current role or would you like to be challenged further, perhaps be given more managerial responsibilities? Or do you hope to be working in an entirely new sector? When you have established this, you can then lay out the groundwork for your career plan.
Ensuring your goal is SMART is really beneficial, if the goal hits all the requirements of a SMART goal, then it is more achievable and realistic. The guidelines for a SMART goal are:

Specific – the more specific the goal the better. A goal of having a change from your current career for example is too vague, exactly what role do you want to be doing? You need something specific to work towards, a vague idea rarely manifests into reality.
Measurable – the goal needs to be measurable so you can track your progression. A goal of earning more money for example is relatively easy to measure as you would keep track of your income. If your goal isn't as easily measured, for example if it is to change career, you would give this a measurable timescale, so you could say you would like to be in your new role within 3 years. If you need to acquire certain skills and knowledge for this area, you can measure your advancement of this. Have you completed an introductory course to understand the basics? Have you completed the required training or gained any experience to go into this field within your 3-year deadline?
Achievable – you need to ensure the goal you set challenges you and develops your abilities, while also still being attainable. Setting a goal that is possible is vital, because if you select a goal that is quite far-fetched, you're likely to fall short and lose motivation. To make sure your goal is achievable, you should ask yourself:
How can I achieve this goal?
Based on the constraints (resources, finances, time etc.) how realistic is it for me to achieve this goal?
Relevant – The goal needs to align with what you want long-term. For your goal to be relevant, you should be able to confidently answer these questions:
Is this goal worth the time and effort I will be putting in to achieve it?
What will be the result of achieving this goal, and what impact will this have on me?
Do the results of achieving this goal match up to my long-term aspirations?
Time-bound – Finally, your goal should have a specific target date, so you have a deadline to work towards. If you don't have a deadline, you're more likely to push the goal to the back of the line of your daily/weekly priorities, which could lead to never achieving the goal intended. Make sure your timeframe is doable, for example if you are looking to train in a new area you may want to take at least 6-12 months for part-time studying and training.
Step 3 – Develop your plan
Now you know what it is you want to achieve (based on your interests, passions, talents and values) and you understand how to set a SMART goal, you can set out your career plan by using the SMART format, for your short-term, mid-range and long-term goals. Here is an example using a SMART career plan template:
SMART career plan example
An example of an office manager wanting to have a change of career and become a procurement professional has been used to demonstrate how to answer each section: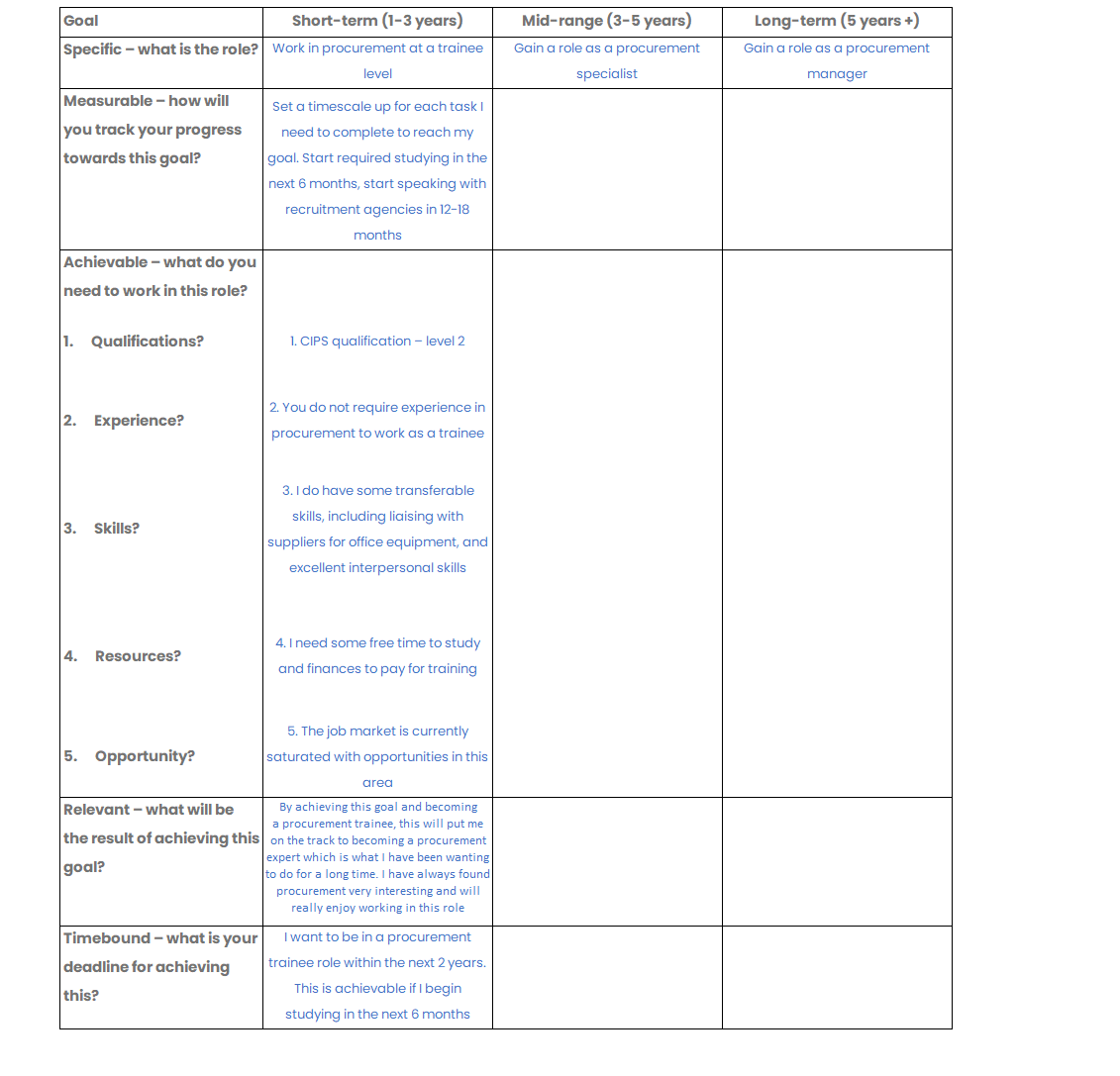 You can use this layout to devise your own career plan. Having a plan written down (or typed) is the best way to ensure it manifests. It's also beneficial to share your goals with friends and family, as this will demonstrate how serious you are about these goals and achieving them, not just to who you tell, but to yourself too!
DLC Training wish you all the luck in achieving your goals for 2022 and the future!