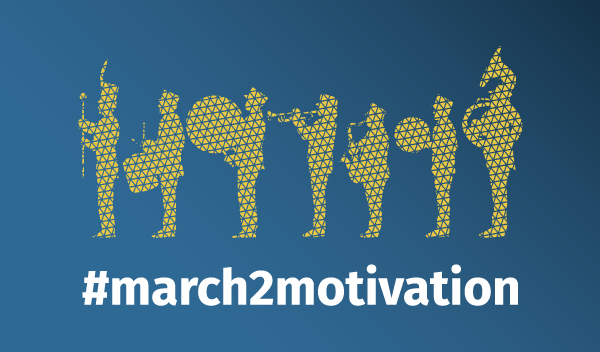 At this time of year, as we wait (patiently) for a summer of great weather, day's out and new adventures, it can be tricky to find new ways to motivate ourselves. We created #March2Motivation a few years ago now and we look forward to it each year, as we understand the importance of staying motivated and pushing forward with our goals.
As the UK moves out of the third COVID lock-down, many of us are now looking more closely at what we want to achieve in 2021. With new opportunities, new challenges, and a few less distractions than we are used to, now is the perfect opportunity to find new ways to build motivation.
Here are our five recommended ways to motivate yourself this March;
1. Add one positive habit to your day:
Such as reading a blog or catching up with industry news. Developing yourself and your interests will increase your positivity and broaden your ideas.2. Track your activity:
In your diary, on a spreadsheet or via an app such as habitica. Keeping track of achievements enables you to see patterns and repeat the success.

3. Make new contacts:
Whether in the office, during your commute or on LinkedIn. Gravitate towards positive people, they are naturally motivated and will help you to see new opportunities.

4. Be your biggest cheerleader:
We can be our own harshest critic, flip this around and be your best friend

5. Keep your eye on the prize:
Just do it! Getting started on a project is the first step, once you've made a start then keep moving forward with your goal in sight.
Of course, finding motivation can be challenging at any time so our top five tips will help you whenever you need a little support with finding new and exciting ways to achieve your professional goals.
Make sure you are following us on social media for some great motivational tips as we #March2Motivation.